WiFi/GSM Smart Home Security System: ZUDSEC ZDAS-F5 is a 4.3" TFT Color full touch screen panel which supports GSM+WiFi Dual Network Technology; With SMS & WiFi Push notification, Two-Way intercom, Operation tone guide, RFID tags, Exit & Entry delay, Zone Setting, and supports up to 100 Wireless sensors/RFID Card/Remotes, with 4 Wired zone, Support IOS & Android APP control; Have a built-in siren, big SOS button & rechargeable battery.
ZDAS-F5 WiFi+GSM design enables the sysem to continue working even internet is out of service, system will automatically call, or send SMS & Push notification via APP once an alarm triggered.
- Optional 4G model: ZDAS-F5-4G

- GSM wireless network + WiFi network, double network protection make sure your home more safe.
- 4.3" TFT Full Touch screen panel, RFID tags, Slim panel with large SOS button & Blue back-up light.
- Multi-Language menu/Operation tone guide.
- Support iOS & Android APP control with push notification
- Support 100 wireless zones/ RFID cards / remote controls, with 4 Wired Zones;
- Intelligent door sensor with Open/Close signal;
- Automatically dial 5 phone/SMS alarm numbers when danger;
- Advanced zone attribute, user-friendly zone name, every zone type can be separately programmed.
- Entry delay, exit delay
- Support wireless siren.
- Support "Ding-dong" door bell function.
- Linkage work with IP camera
- Built-in Li-lon backup battery can work for 2 hours in case of no electricity supply, it will alert when low power or external power failure/ recover.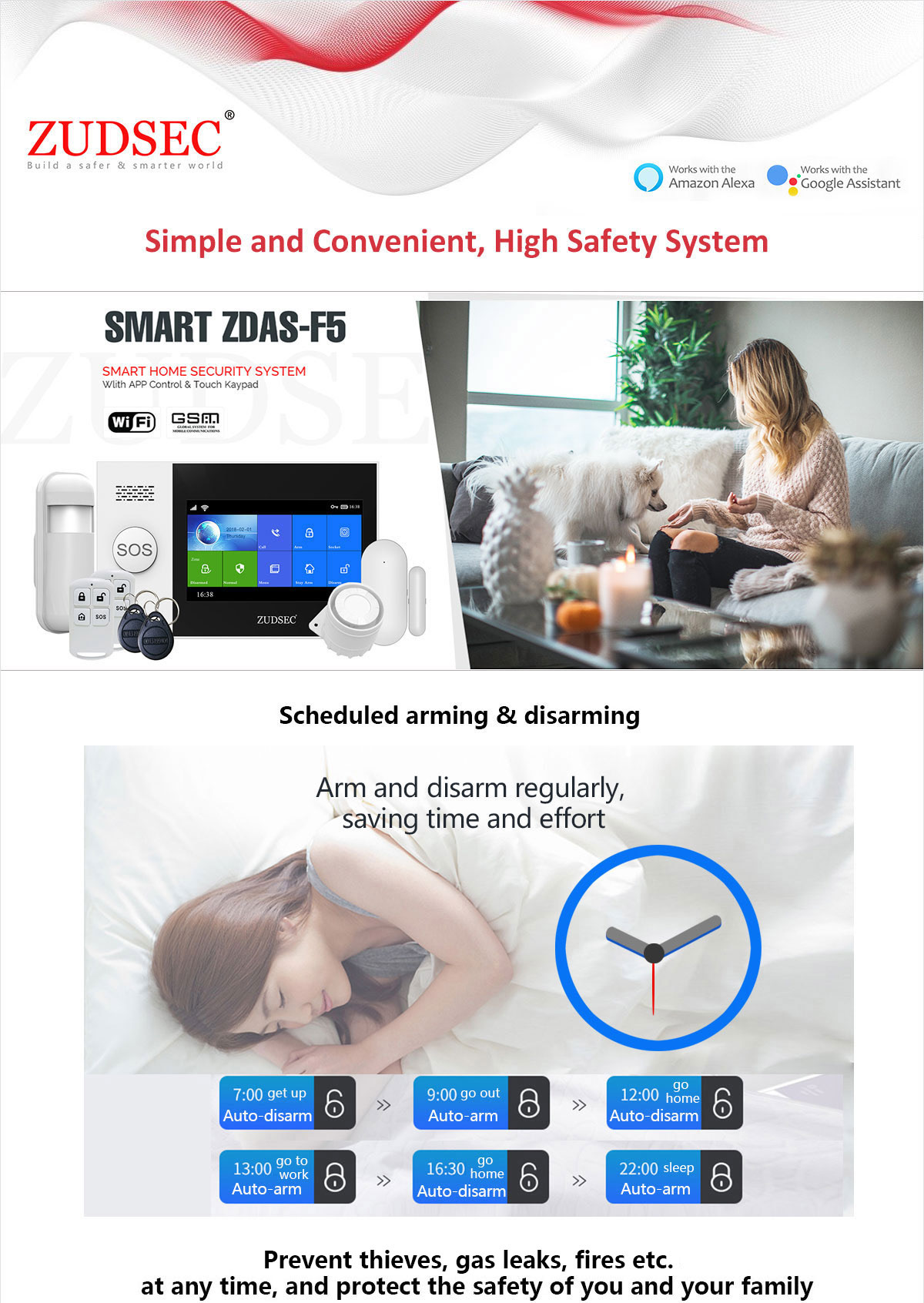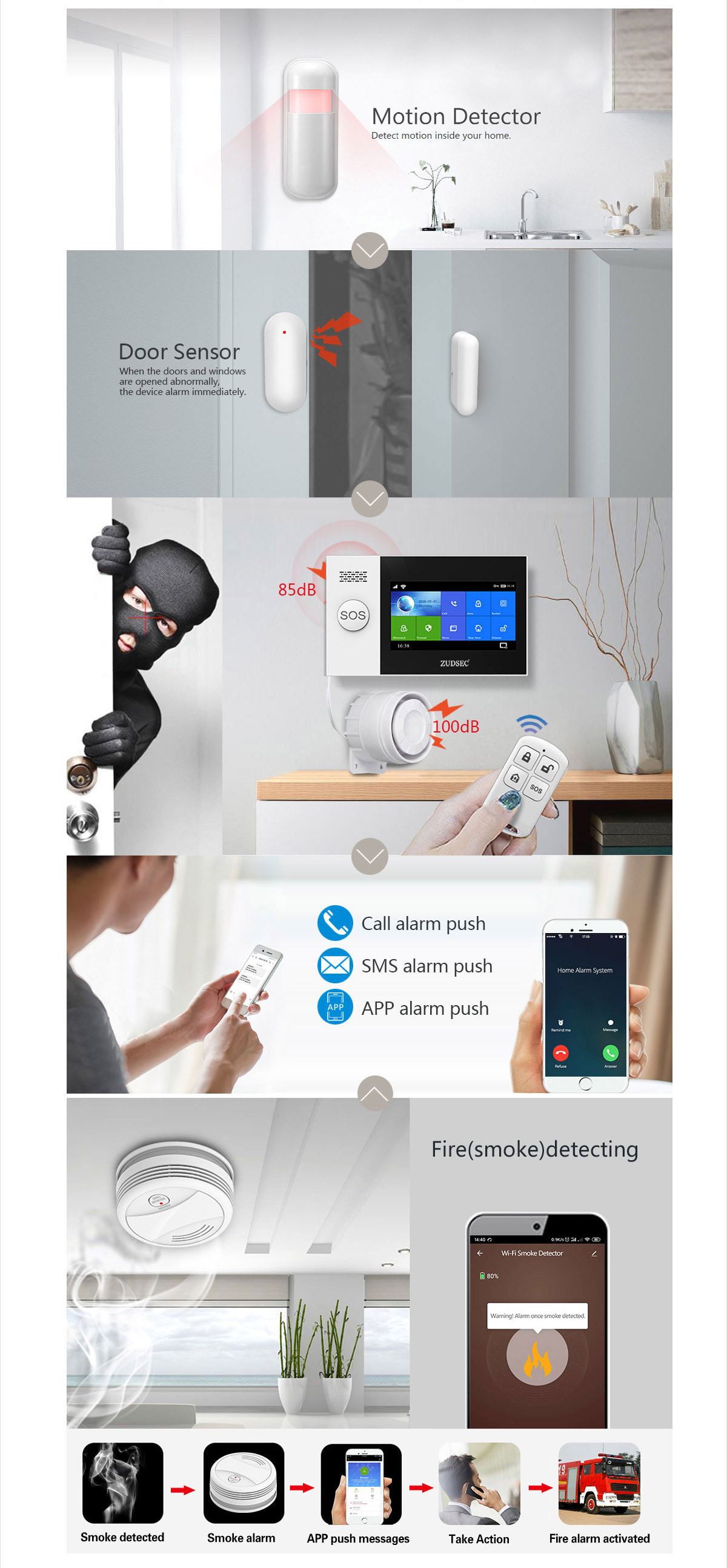 Alarm communications: Transmitting alarming signal by GSM dialing and Wifi network

Support GSM frequency: GSM850/900/1800/1900MHZ (Quad-Band) applicable for universal.

Wireless frequency: Available in 315MHz/433MHz

Protection zone: 99 wireless zones

Working power voltage: Input: AC 110~220V 50-60Hz; Output: DC5V /1A
Static current: <200mA; Alarm current: <120mA;

Built-in Li-ion backup battery: 3.7V,500mA,

Coding type: learning code

Wireless receiving distance in open place: >200m, indoor: 30~50m, (depend on the surrounding environment and wireless interference)

Alarm volume: internal :45dB, external siren: 110~120 dB

Working temperature: -20 ~ 55°C ; Working Humidity: 40 ~80%

Packing box: 19*18*9.2cm Weight: 1kg / kit
Package contents:
Optional Accessories: Wireless Smoke Detector, Wireless socket, Wireless Keypad,

Photoelectric Beam Sensors, Wireless shutter sensor, Wireless Emergency Button,
Wireless Repeater, External wired /wireless Siren etc.